---
Who has it better than snowbirds? As soon as the snow hits up north, they have an escape to a warm and sunny paradise. Once the snow is gone, they just pack up again.

Willoughby Golf Club sees plenty of these snowbirds come and go every winter. Who can blame them? Stuart, Florida is a great escape for those who despise the cold but still have a home in the northern part of the country.
Here are 3 Reasons to be a Snowbird in Stuart, Florida.

1. Avoiding the snow
Nobody likes shoveling snow. Driving in wintery slush can be a nuissance and also very dangerous.
In case you didn't know, it doesn't snow in Stuart. Throughout the winter, you'll see highs in the mid 70s and lows in the upper 50s. Sounds pretty good right now, doesn't it?
2. Peak golf season
While courses are shutting down for the season near you, the golf season is just picking up in South Florida.
The summer heat scares a lot of golfers away, but with temperatures like the ones I just mentioned, what better time to tee it up than in the winter? And if you just so happen to be in Stuart, you've got a great club right in your city!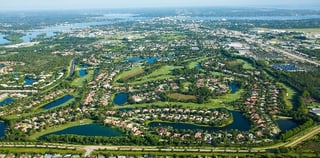 3. So much to do
From Stuart Beach to The Riverwalk and Halpatiokee Regional Park, there's plenty to discover here.
There's nothing better than having someplace new to explore and soak up the Florida sunshine while everyone back home is brushing snow off their cars.
---

If Stuart, Florida seems like your ideal winter escape, I recommend checking out our Non-Resident Golf Membership. It's a chance to join an incredible community of golfers, tennis players and fellow snowbirds.
---